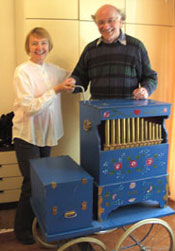 Schwengeluebergabe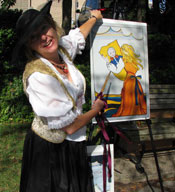 Christiana w Mariechen, St. Charles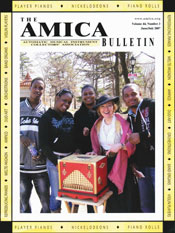 Lola as AMICA cover girl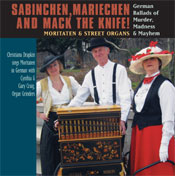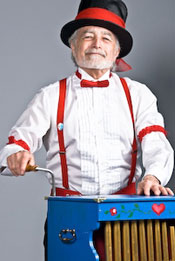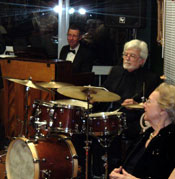 Bob Walker & Don Buchanan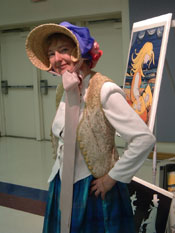 Organ Grinder Lola @ Nat'l Lutheran Home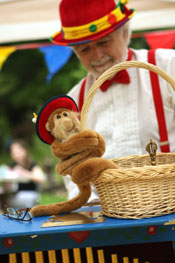 photo by Dean Evangelista
Although, New York City and the DC area, have become Christiana's artistic home as a Jazz vocalist over the past decades, she is not shying away from showing her roots. When visiting her mother, back home in Baden-Baden, they both chime into the songs her mother grew up with. As a born Berliner with her own life-long artistic output as a painter, poet, and storyteller, Christiana's mother found her way back to some of Heinrich Zille's "Milieu" belting out Moritaten, bloody ballads of heartbreak, murder and lost love. Here she is with her group, the Baden-Badener Drehorgelweiber. It is a great pleasure for mother and daughter to share this raucous and humorous part of their heritage.
In 2008, Evelis gave her daughter her very own hand-crafted street organ, "Scharmanka", a 20-tone crank organ, made in Baden-Baden by master builder and organ enthusiast Florian Tilgner. Florian also composes the arrangements of the music, which he then stamps out by hand on long paper strips. (Other organ grinding music rolls are available for sale by specialty companies like Edi Hoffman, and Raffin Organs, which produce such strips for various models of mechanical musical instruments with a wide selection of tunes.) These strips are threaded onto the spindles to make the music rolls, which get cranked through the musical action. Air blows through the small holes which activate their respective organ pipes and make the sounds. The whole mechanism is powered by cranking the handle (grinding the organ), which pumps the air bellows and transports the music rolls. A perfect mechanical instrument, but that's only the half of it: it's the music that makes everything come alive. How they got it on the plane and through customs is another story.
Christiana's mother is also the illustrator of the colorful picture boards that depict the dramatic events in the songs, very much in the tradition of the old Moritaten street acts.
In 2007, Organ Grinder Lola was a special guest of the St. Charles Oktoberfest in Missouri, invited by Gary Craig and his late wife Cynthia of the local AMICA Heartlands chapter. Cynthia, you are missed by so many! Thank you for giving us so much love and support and inspiration.
Organ Grinder Lola sang many of the old tunes, both in English and German, complete in costume and with her mother's posters, graphic illustrations of the dramatic stories told in song. In New York City, they were a hit, playing three days in a row at the hip Lower East Side German restaurant "Zum Schneider", here with Gary's organ. They performed in Prospect Park, and at the fabled "Freddy's Backroom" in Brooklyn. They recorded a CD together, with Cynthia & Gary's hand-made Axel Stüber organs from Berlin and Christiana singing.
---
Master Bob
How does a former university professor ascend to the lofty position of Master Organ Grinder?
Lola's Mom, a seasoned "Drehorgel-Weib" in her own right, wouldn't pass on her crank handle to just anybody. "Here, Bob, get to work!" was her command. She decided that he had talent. Everybody was surprised how Bob and Lola immediately fell into their very own comedy routine, like an old vaudeville couple. Surely, they must have traveled together like that in a previous lifetime.
Bob has his own music performance background. As a Jazz drummer, he played with the "Deacons of Dixieland" for over ten years, and with "College Heights Jazz" while holding a professorship at Penn State University. He is currently playing in the DC area with the "Silver Swing Quartet". As Master Bob, he and Lola have just received their official buskers' license from the City of Rockville, MD.
"You deserve each other," is how one of Bob's colleagues summed it up.
Organ Grinder Lola and Master Bob have played for New York City's Mayor Bloomberg on occasion of the 2008 Steuben Parade, and at many other events. They regularly take their colorful and boisterous musical act to nursing homes and senior residences. Many old folks hum and sway and sing along, and not a few start to remember some of these songs from times long ago. Young children are just as delighted, and they always flock to the performers and their wondrous instrument, taking a peek inside. Maybe they dare to take a shot at cranking the handle and make the music come alive.
---
Panchito
East Side, New York
11 de octubre de 1492
Querido Tio!
Ya estoy en el Nuevo Mundo un dia antes que Cristóbal Colón. Tengo en mi servicio a un italiano viejo pero muy simpático que toca el organito mientras yo bailo. El italiano se llama Benito y parece muy feliz. Yo también estoy muy contento y ademas gano mucho dinero y de manera muy fácil, sin tener que trabajar. Solamente bailo y bailo. ¡Que bella es la vida! ¿verdad? Con mucho cariño, tu sobrino, Panchito el Mono
[From: "First Spanish Reader", Angel Flores (ed.), Dover Publications, 1964.]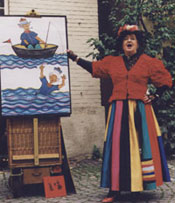 Evelis Reichardt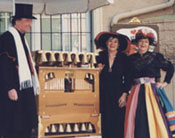 Master organ builder Florian Tilgner with his 36-tone crank organ with bells, his wife, Irene, who is also an organ grinder, and Christiana's mother, Evelis Reichardt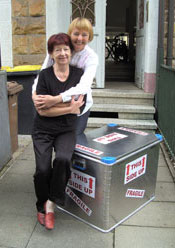 Mom & Christiana w Scharmanka in box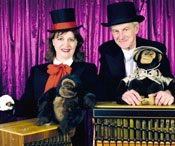 St. Louis organ grinders Cynthia & Gary Craig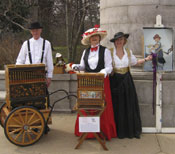 In Prospect Park, Brooklyn, 2007
(photo by Fred Becker)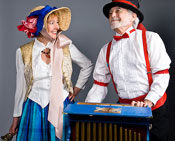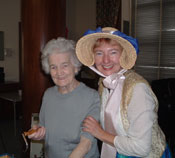 Organ Grinder Lola @ Andrus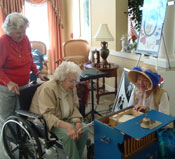 Organ Grinder Lola, Grace House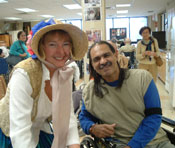 Organ Grinder Lola @ Ft Tryon